Available documents
Virtual visit of the exhibition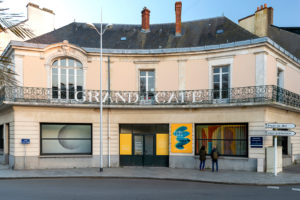 Bella Vista, 2021
Directed by Sylvain Huet / Avis d'Eclaircies
Exhibition
Still unable to reopen its doors, Le Grand Café chooses to continue its work of accompaniment and support for artists. And if this cannot be seen from the inside, it will be seen from the outside!
Since we need to open up our imagination,
Since we want to rediscover the pleasure of creating and sharing,
A sequence of three different universes is presented in the windows of the art centre for the arrival of spring. It proposes an immobile journey through the artistic practices of Côme Clérino, Noémie Goudal and Adrien Vescovi.
A project to walk past, to stop, to be astonished, to breathe… which shows us that art is only waiting for our gaze, and that when we wish it, the view can remain beautiful.
Côme Clérino
Côme Clérino's practice conjures up painterly gestures that he applies to disparate substances. He works with raw materials, often drawing on the construction industry, and amalgamates them to create hybrid, almost organic, forms with a particular attention paid to colour. The artist, who describes himself as a painter, uses his favoured ceramic technique to work with the play of transparency, opacity, surface and relief. He exploits the porosity between materials to create environments that are, according to their scale, decorative or even ornamental: kinds of fictional worlds between domestic spaces and exterior places. By bringing a form of preciousness to building materials, a poetry of the everyday arises.
Noémie Goudal
Noémie Goudal's landscape photographs swing between the realism of the scientific references that inspire her and the artificiality of a décor. If the illusion appears perfect at first, the artist takes pains to leave some visible clues that reveal, in part, the process of fabricating the image. The image doesn't lose its magic because of this, on the contrary: shunning special effects and photomontage software, Noémie Goudal experiments with an empirical way of constructing the image on the spot, anchoring fiction at the heart of nature. The resulting landscapes lead us towards a poetic elsewhere, where notions of place and time fade away.
Adrien Vescovi
Always mutating, Adrien Vescovi's paintings are the outcome of a long fabrication. Like an alchemist, he uses dyeing processes to experiment with colours appearing and fusing on his canvases. For the Alphabet series, he builds his palette from natural pigments extracted from the ground in the Vaucluse, the Roussillon, in Burgundy, but also from Italy and Morocco. The colours impregnate the fibres of the textiles and the memory of place is inked into matter. The assembled recycled sheets, sewn together, form strata of territories and histories.
His loose canvases are suspended in the small room of Le Grand Café; through the windows they give a rhythm to the space with the play of appearance and openings, suggesting any number of possible monuments or ephemeral compositions. In a reversal of his older works, where the body passes through them, the artist asks us to take time to halt and contemplate. In this new series, created in the introspection of lockdown, letters appear and reveal a coded, encrypted writing. It shows itself today in public for the first time, like an invitation to unpick the ties between language and matter.
The shutters will be open Monday to Friday from 11am to 7pm, Saturdays and Sundays from 2pm to 7pm.
Artworks
Côme Clérino
Fenêtre au sol
2019
Mdf, plywood, polyester plaster, oakum, acrylic resin, white clay, enamel, paraffin, roughcast, polyester resin, polyurethane resin, thermoplastic glue, concrete, tile joint, acrylic mastic, and colored pencil, 99 x 92 x 77 cm
Côme Clérino
Des temps liés
2020
Concrete, acrylic resin, ceramic, enamel, silicone, polyester resin, fiberglass and silkscreen printing on japan paper, 56 x 38 x 3 cm
Collaboration with Camille Benarab-Lopez
Côme Clérino
La Petite verte dans son pot
2019
Ceramic, paraffin and concrete, 56 x 46,5 x 27 cm
Collaboration with Victor Levai
Noémie Goudal
Southern Light Stations II
2015
Lightjet print, 350 x 460 cm
Adrien Vescovi
Alphabet
2020
Sheet (linen & cotton), natural dye (ochres), sewing machine, 318 x 557 cm
Adrien Vescovi
Soleil Blanc
2020
Sheet (linen & cotton), natural dye (ochres), sewing machine, aluminium. Variable dimensions
Adrien Vescovi
Alphabet A
2020
Sheet (linen & cotton), natural dye (ochres), sewing machine, 237 x 127 cm
Adrien Vescovi
Alphabet B
2020
Sheet (linen & cotton), natural dye (ochres), sewing machine, 237 x 127 cm
Adrien Vescovi
Sans titre
2020
Hemp, cotton, natural dye (ochres). Variable dimensions
Biographies
Côme Clérino
Born in 1990, lives in Paris and works in Pantin.
Represented by Chloé Salgado Gallery, Paris.
website
gallery website
Noémie Goudal
Born in 1984, lives and works in Paris.
Represented by Edel Assanti (London) and Les Filles du Calvaire Gallery (Paris).
website
gallery website
Adrien Vescovi
Born in 1981, lives and works in Marseille.
website