Available documents
Virtual visit of the exhibition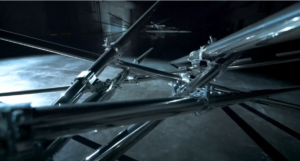 Virtual visit of the exhibition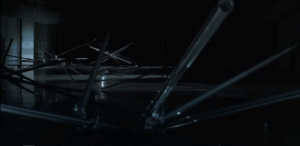 Human Fly (Preview), Claude Lévêque, 2019
Directed by Armand Morin
Exhibition
Nothing is ever literal with Claude Lévêque. He weaves referential or autobiographical allusions that help to unlock the universal significance of a story that he's been enriching every time he engages with a space. Lost childhood, traumatic memory, anger, desire and the meditative melancholy a landscape inspires: all of these are often interlaced in theatrical installations that combine – as is the artist's tradition – objects, sound and light.
Situated between the aesthetics of sensory shock and the quest for contemplative bedazzlement, Claude Lévêque is willing to use powerful sound creations to expand upon his visual devices. A number of writings have emphasised his connections with the utopias, protestation and marginality of 1980s music scenes, but his culture is much broader: from the beginning, the artist's musical spectrum has absorbed everything, or almost, from Mahler to Slayer.
Claude Lévêque also works with atmospheric soundscapes in collaboration with others, among them the musician Gérôme Nox. So sound becomes, like light, a tool to metamorphose space and intensify visual experiences: gently (the delicate crystalline rustle that accompanies Mort en été, dreamlike installation created for Fontevraud Abbey in 2012) or painfully (the sub-bass waves of Sentier lumineux, an explosive assault conceived for the lieu unique in 2000).
Claude Lévêque has a passion for mirror images and is inclined to fill his installations with reflective fragments. The status of this material has been disrupted since the 1960s by the concept, popularised by artists like Michelangelo Pistoletto or Daniel Buren, of the mirror as a medium: it becomes simultaneously both image and subject, support and surface.
The mirror amplifies space, acting as a powerful way to catch light and therefore the eye: the material is an emblem of Claude Lévêque's interest in the realms of entertainment, the immediate impact of the worlds of the funfair or the circus, these ephemeral universes that use fairly rudimentary and often cobbled-together methods to produce strong sensations. They are modest mirages that make the landscape glitter, simple devices that flee from sophistication, which is something poorly suited to the artist's language. Instead, raw reflections run through his work, "dominated by the presence of metal in all its forms – cages, bars, blades, exhaust pipes, wheel rims, tin cans, corrugated iron, rails, etc.1", like a mise en abyme of the infinite complexity of the real.
The entire Saint-Nazaire exhibition works with writing in light, and contrasts sharply with the artist's recent projects: a more experimental and more radical in situ intervention, it's also a nod to The Cramps and their song Human Fly, a psychobilly gem carried by Lux Interior's syncopated voice and belching sensuality. The track's first verse alludes to the fly's diffracted vision2. It is precisely this eye, its vision a multiplication of panoramic facets made possible by a multitude of light sensors, that interested the artist as a way to evoke the enlargement of perception directly linked to the paroxysms of his structure's impact on the senses.
In the vast space that runs across the LiFE, well protected under the bomb traps, eight metres of reinforced concrete weighs down overhead. In there, laid out on the ground, Claude Lévêque has distributed seven stellar clusters: spectacular bouquets of stems of polished mirrored stainless steel linked by metal collars. These bars have been allowed to settle under their own weight, to becomewedged at their own balancing point. Similar but all different, these criss-crossed assemblies form knots of sparks that dance under stroboscopic jolts and flicker beneath the split beam of spotlights.
The visual disturbance, stripped of the oneiric qualities at work in his other projects, is amplified by the intense harmonics of metallic collisions that Claude Lévêque has laid out in the space. This sound loop has the character of a bruitist roller coaster, a frantic resonating circulation between light-hearted twitching and menacing rumbling that invades everything, the space as much as the bodies of visitors. This combination of forces held in tension results in an exhibition that behaves like a trap, a notion the artist has often developed. Somewhere between a rite of passage and an ambush, between cosmic vertigo and the heightening of every sense, it's an enjoyable stroll, but all shook up. Keep your wits about you.
Éva Prouteau, critique d'art
—
Notes
1 – Florence Ostende, Le Dernier rempart de la Loire, Monographie, kamel mennour éditions, Paris, 2018 p. 9.
2 – The Marvel Comics supervillain, the eponymous Human Fly at the centre of the song's lyrics, is gifted with this kind
of vision.
Production
Edition
Biography
Born in 1953 in Nevers.
Lives and works in Montreuil.
The artist is represented by the Kamel Mennour gallery (Paris and London).
website
gallery website
Sponsors